Join our campaign for fair tax for Scotch Whisky
In 2019, the UK government committed to "ensure our tax system is supporting Scottish whisky and gin producers."
Two years after this promise was made the Chancellor announced proposals for a reformed alcohol duty system which would put Scotch Whisky and other spirits at an even greater competitive disadvantage than under the current - already unfair - system.
It is time for the Chancellor to think again.
Tax on Scotch Whisky in the UK currently stands at 70%, meaning around £3 in every £4 spent on Scotch Whisky in the UK goes to the HM Treasury in excise and VAT. In addition, Scotch Whisky is put at a competitive disadvantage compared to other alcohol categories because the tax system is "a mess", "incoherent" and "a complex – and arguably outdated – system of taxation." These are not our words, these are the words of HM Treasury Ministers, past and present. 
In the Queen's Speech in 2019, the UK government promised to "do more" to #SupportScotch and "review alcohol duty to ensure our tax system is supporting Scottish whisky and gin producers and protecting 42,000 jobs supported by Scotch across the UK." Two years after this promise was made, the Chancellor announced proposals which will embed the competitive disadvantage faced by distillers in Scotland and across the UK. 
Our view is simple - the Treasury's excise reform proposals fall short of the mark. Not only do they fail to meet the commitments previously made to the industry, but they propose to make a flawed system worse. It is time to think again.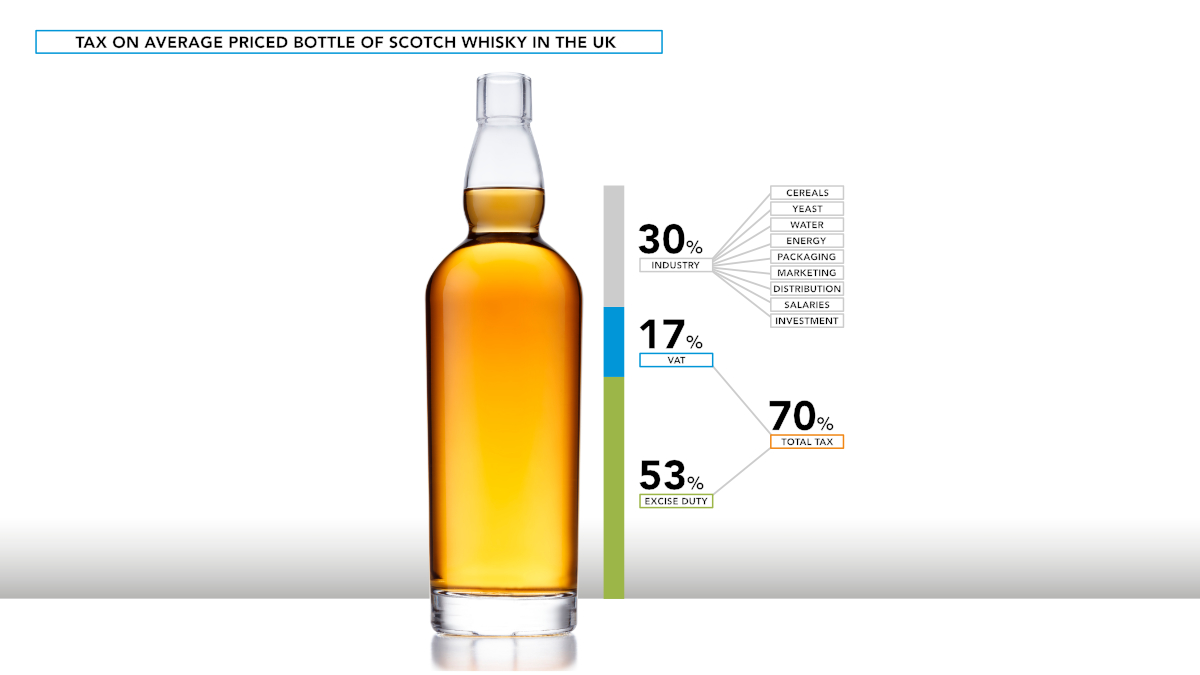 The UK's review of Alcohol Taxation
What is the alcohol duty review?
The duty review formed part of the Conservative Party manifesto ahead of the December 2019 General Election. For many years, the SWA has argued that the current system is unfair to Scotch Whisky and that the outdated system should be reformed. In 2019, we secured commitments from the Conservatives – as well as the SNP and Liberal Democrats – that duty reform should be a priority for the next government.
The Queen's Speech in December 2019, which sets out the government legislative plans for coming year, said that the government would "review alcohol duty to ensure our tax system is supporting Scottish whisky and gin producers and protecting 42,000 jobs supported by Scotch across the UK."
Two years on, where are we with the duty review?
In October 2020, HM Treasury launched a 'Call for Evidence' and the SWA has submitted a response on behalf of our members. In October 2021, the Chancellor set out reform proposals in a consultation which will end on 30 January. The SWA will respond to this consultation setting out how the Chancellor has made an unfair system even worse for Scotland's national drink. 
How do the reform proposals put Scotch Whisky at a greater competitive disadvantage?
The Call for Evidence stated: "when compared on per unit basis the duty system as a whole is highly inconsistent." This is true. Under the current system, per unit of alcohol, Scotch Whisky - and other spirits – are taxed 16% more than still wine (12% abv), 51% more than beer (4% abv) and 185% more than cider (4% abv).
The Chancellor's proposals would make some elements of this system even worse. Scotch Whisky and other spirits would be taxed 11% more than still and sparkling wine (12% abv); 51% more than beer (4% abv), climbing to 59% under the 'draught relief'; and 227% more than cider (4% abv). UK spirits duty would remain 82% higher than the average across EU member states and the highest in the G7. And the Treasury would have given tax cut to the majority of the cider market in the UK, in the on and off trade; a tax cut to beer in the on trade; a 25% tax cut per unit of alcohol to imported prosecco, cava and champagne, which makes up the vast majority of the UK sparkling wine market - but nothing to support domestic spirits producers.
You can see the unfairness to Scotch Whisky of the current and proposed systems in the graphs below.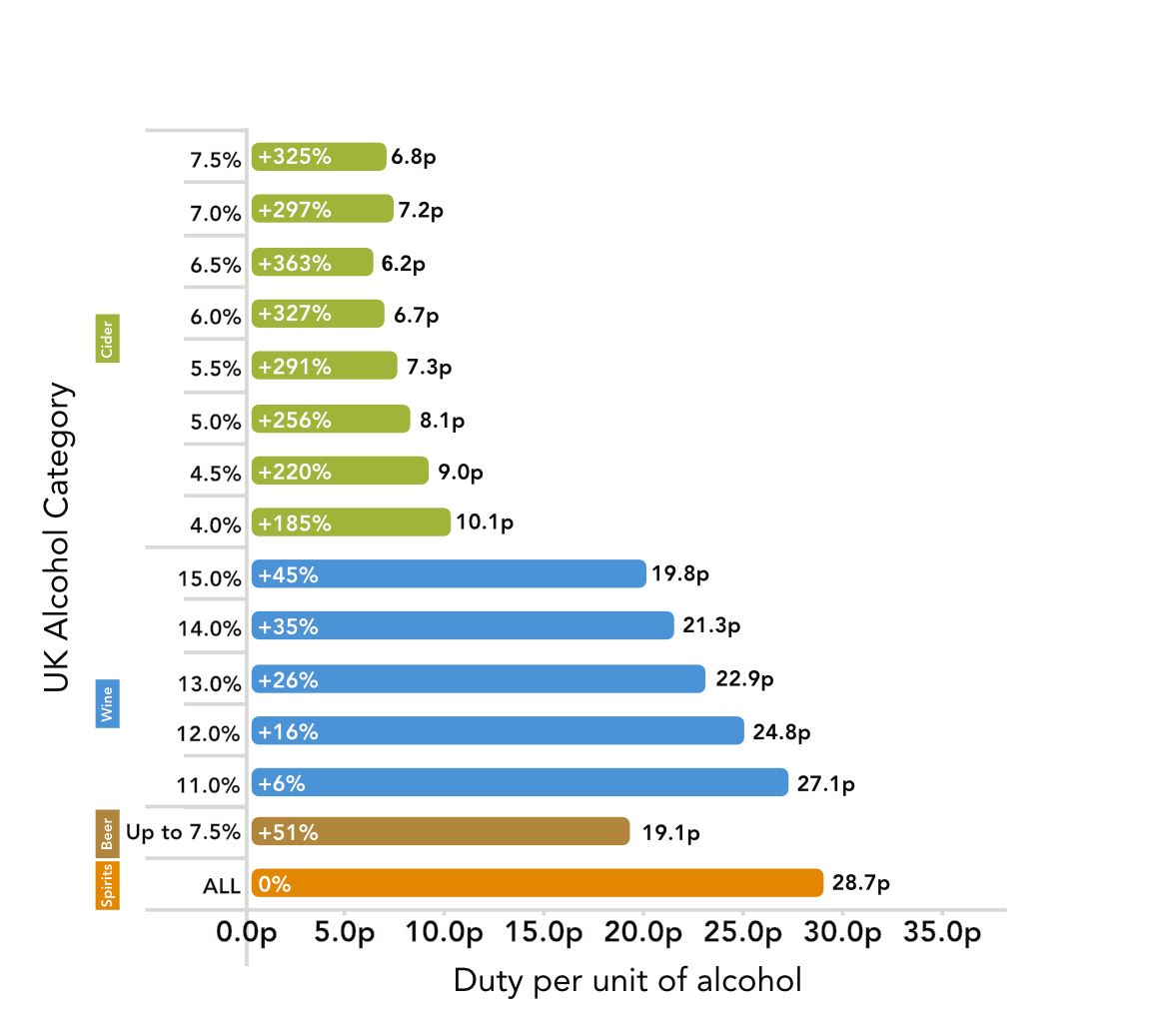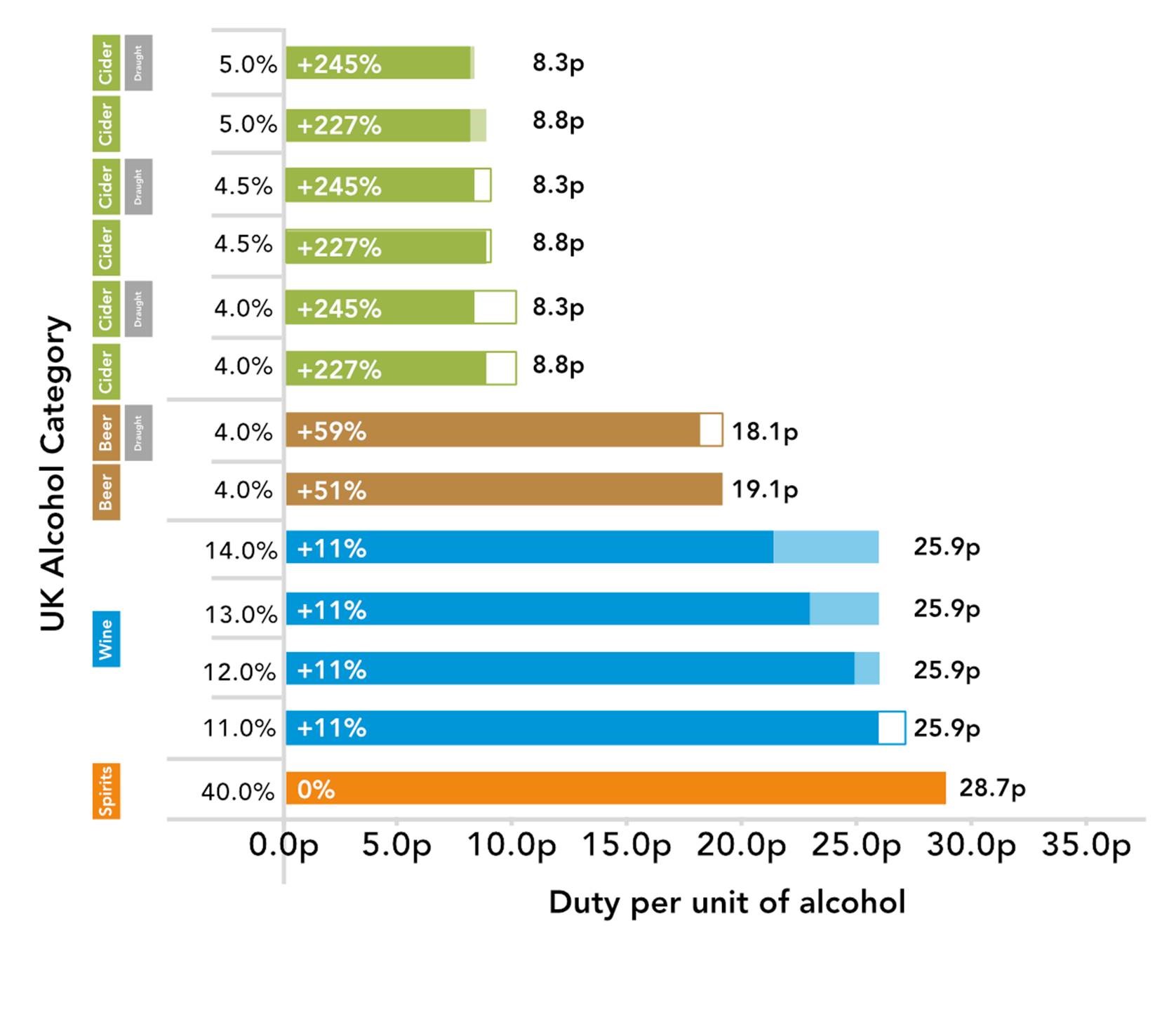 We think the reformed system should be clear for consumers and fair for industry. After all, the government's own Chief Medical Officers' guidelines on low-risk consumption say adults should drink no more than 14 units a week of alcohol. The guidelines do not discriminate between categories of alcohol, and we don't think the tax system should either.
What about the other reforms set out by the Chancellor?
The principle the Chancellor set out – "the stronger the drink, the higher the rate" – will continue to discriminate against distillers. The decision to base future taxation on alcohol strength, rather than alcohol content, is misguided and wrong. The proposals embed the mistaken belief that lower abv products are somehow better, or less harmful, than higher abv products. They ignore the fact that a 4% abv pint of beer or cider contains 2.3 units of alcohol – more than a typical spirts-based cocktail with 2 units – and proceeds to tax alcohol served in this way less. The proposals penalise the vast majority of people who consume alcohol responsibly when they choose to enjoy a spirits-based drink over other alcohol. And they would mean spirits producers would continue to bear a heavier tax burden than other alcohol producers, which penalises Scotland, given that 92% of all UK spirits are produced or bottled in Scotland.
The proposed 'draught relief' also discriminates against Scotch Whisky and other spirits producers, despite spirits constituting more than a third of all alcohol sales in hospitality settings. Tax on cider, already by far the lowest taxed category of alcohol, will fall further under the draught relief proposals. Currently a 4% abv cider pays 10.1p per unit of alcohol in duty; under the reform proposals, this would fall to 8.8p per unit, and to 8.3p per unit under the 'draught relief' proposals. The hospitality industry, including pubs and bars, are about far more than beer or cider pulled from a keg. Beer and cider drinkers will stand beside people enjoying a spirits-based cocktail, with the latter paying more duty on drinks which contain less alcohol. This remains as confusing and more unfair than our current, unreformed system.
The proposed reforms do not align the tax system with public health objectives. The current health guidelines on low-risk drinking urge people not to consume more than 14 unit of alcohol per week. Alcohol is alcohol – the Chief Medical Officers' guidelines recognise this, but the proposals ignore it and would continue to discriminate between categories. A more rationale system would base tax on units of alcohol, meaning tax would remain consistent across categories and more closely align with the CMO guidelines. In addition, the proposals seem to take no account of the calories contained in beer and cider, which tend to be higher than spirits and wine. The reforms set out in the consultation give consumers no further clarity on how to make responsible choices than the current system.
The proposal for a 'small producers relief' specifically excludes distillers. We do not understand why small beer and cider producers will get a tax break up to a certain volume but not small spirits producers will not.
The reform proposals will make it more difficult for the industry and Department for International Trade to advocate for clearer, simpler and fairer tax in important Scotch Whisky export markets. As they stand, the proposals significantly undermine our case discriminatory taxes overseas that depress Scotch Whisky sales in a number of our markets around the world.
What are the next steps? 
It doesn't have to be this way. A reformed alcohol tax system can be clearer, fairer for consumers, make UK-based businesses more competitive and continue to deliver significant revenue to HM Treasury while protecting public health. This has always been the goal of our campaign to reform alcohol taxation in the UK - it is time the Treasury listened. 
Join our campaign and tell the Chancellor to keep the UK government's promise to #SupportScotch
How can I get involved?
Help us to ensure tax fairness for Scotch Whisky and other spirits.
Contact your MP
Find the contact details of your MP by putting your postcode into https://www.writetothem.com/
Your local MP is displayed, click their name
Copy and paste the suggested letter here – please change as necessary
Provide your full name and address – needed when contacting MPs
Send the letter to your MP via email
Tell us you have emailed your MP by emailing info@swa.org.uk so we keep you in touch with our campaign to end unfair tax on Scotch Whisky.
Tweet your MP
Find the twitter handle of your MP by putting your postcode into https://www.theyworkforyou.com/


Tweet them to let you know you #SupportScotch – remember to tag us @ScotchWhiskySWA
Some suggested tweets below:
The Scotch Whisky industry is the UK's number one food and drink export and a vital part of our economy.  I've just written to [insert MP's Twitter handle] to help ensure @hmtreasury #SupportScotch in the duty review.
.@hmtreasury promised action to #SupportScotch – but alcohol duty reforms would further penalise #ScotchWhisky. I've just written to [insert MP's Twitter handle] to ensure the UK government keeps its promise to distillers.
£3 in every £4 spent on #ScotchWhisky in UK is collected in tax - a higher tax burden than any other alcoholic drink. It's time to #SupportScotch, not further embed the competitive disadvantage faced  by distillers - please back the campaign [insert MP's Twitter handle]