11 March 2022
Scottish Apprenticeship Week 2022

Katie Shiell, 23, is a Production Associate at Glenmorangie. She applied for a Modern Apprenticeship as she thought it would be a great way to still learn whilst also starting my career in an industry that was growing. 
Katie found her apprenticeship advertised on Indeed and got more info about it by attending an open evening. Katie explained to us why she applied: "I chose to apply firstly because it was labelled an apprenticeship, which appealed to me when thinking about gaining qualifications but also because the description mentioned a lot about looking to the future which gave me confidence in the company's ambitions and I wanted to be a part of that."
Katie thinks that apprenticeship programmes are important because they open up industries to people who, without previous experience in a similar environment, would struggle to meet requirements for a position – or even know that an industry exists at all.
Katie now works full time in production and she is pleased to have found a career in the whisky industry and has  identified sustainable packaging as the area she'd love to continue in.
We asked Katie what advice she would give to prospective apprentices. She told us: "What I would say to prospective apprentices is that there is so much to learn from everybody you meet so take the initiative, ask those silly questions you will benefit immensely from it."
Scottish Apprenticeship Week continues all week and we will be celebrating it each day.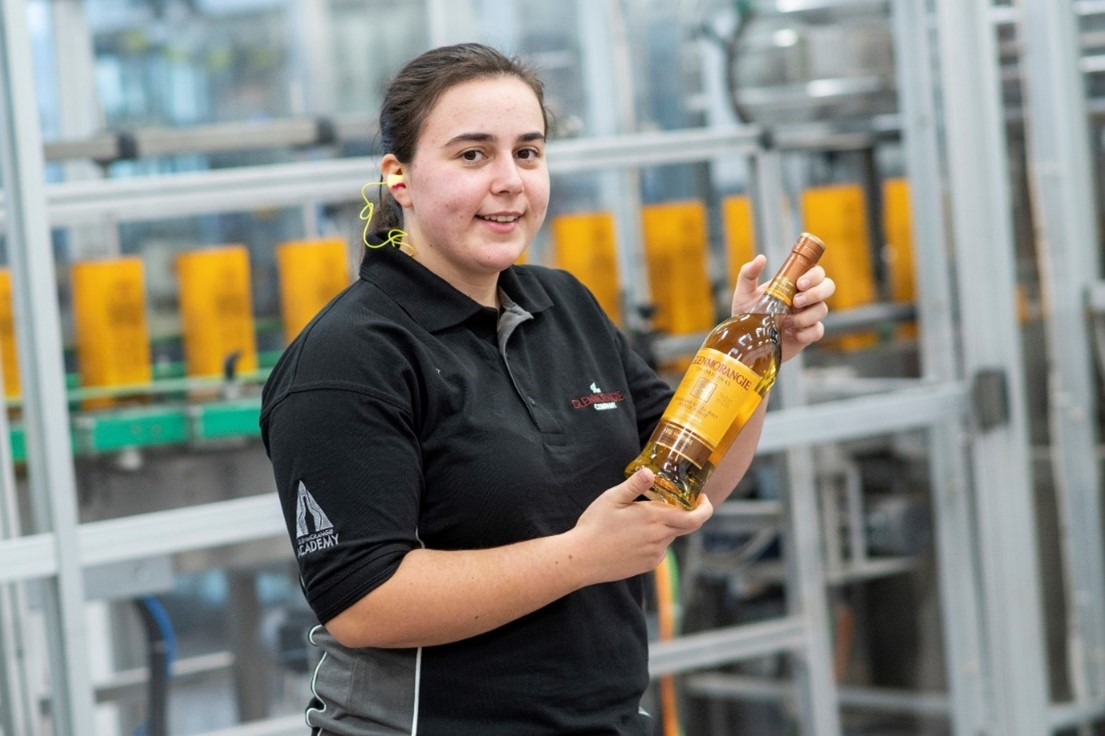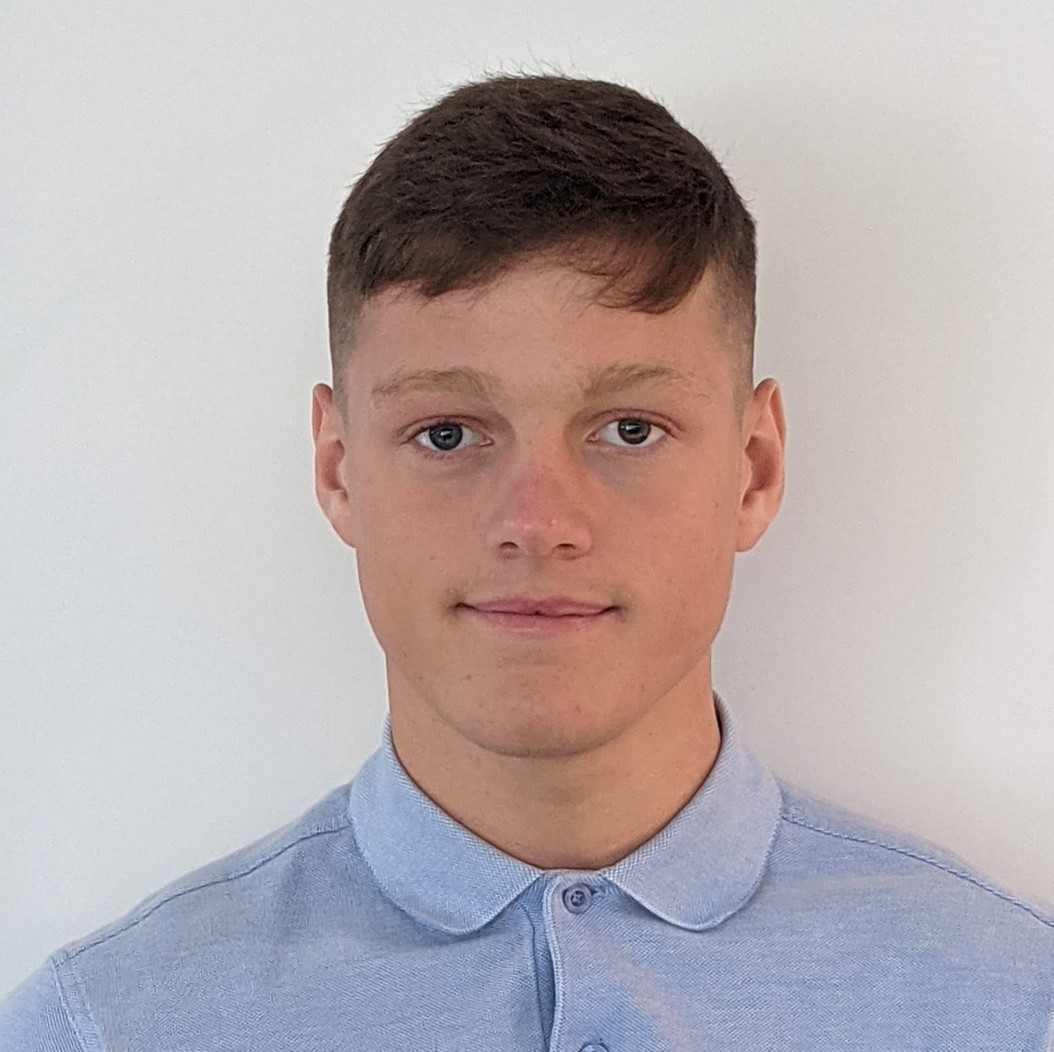 Dylan is currently undertaking a Procurement Apprenticeship at Inver House Distillers, part of the International Beverage Group.
Learning about the whisky industry had always fascinated Dylan and after finding out the company was looking for apprentices and the qualification and benefits they offer, he jumped at the chance.
Dylan tells us: "I am currently working in logistics and supply chain for the business. This is great as it allows me to learn all parts of the industry and widen my knowledge rather than focusing on one single thing. I am currently on the purchasing team buying in all different parts of bottles and learning how to stay organised and deal with suppliers."
We asked Dylan about why he thinks that apprenticeships are important for employment, and he told us: "I believe that hiring an apprentice is a great way to grow talent and productivity in an industry. It's great for people who are eager to learn and get a great look into a completely new industry."
Dylan's favourite part of his apprenticeship is being able to learn all the time. He gets to work with lots of different people from around the whisky industry which he thinks helps expand his knowledge even further.
Dylan is hoping that he will be able to pursue a career in Logistics and supply chain and tells us: "Once completing my apprenticeship qualification I will have all the skills and knowledge I need to hopefully take on my own role fully."
Struan Chilton is currently studying on the Modern Apprenticeship in Spirits Operations at Glenmorangie.  Struan chose the apprenticeship because he felt that the whisky industry was a good business to get in to, not least because of the opportunities for growth that is offers.
We asked Struan about his role. He told us: "My role consists of making sure there is always a constant flow of glass on way to the whisky filling machine. I am always making sure it's the correct glass, keeping my work area tidy and efficient, being a team player and having good problem-solving skills."
Struan told us that one of his favourite parts of the apprentice is the chance to meet new people and make friends. Struan said: "we would spend a lot of time together especially at the beginning of the apprenticeship when we were given group task and presentations to do together to share our learning progress with the leadership team."
Apprenticeships have many benefits for both apprentices and employers. Struan thinks that apprenticeships are important because they can give people the knowledge and experience to be fully ready to take the jump into full time work and be confident and comfortable in their abilities. This helps people to be a part of the wider team.
Struan already has a career goal which is to work in quality, so he is beginning to focus on that as part of his career plan over the next 5 – 10 years.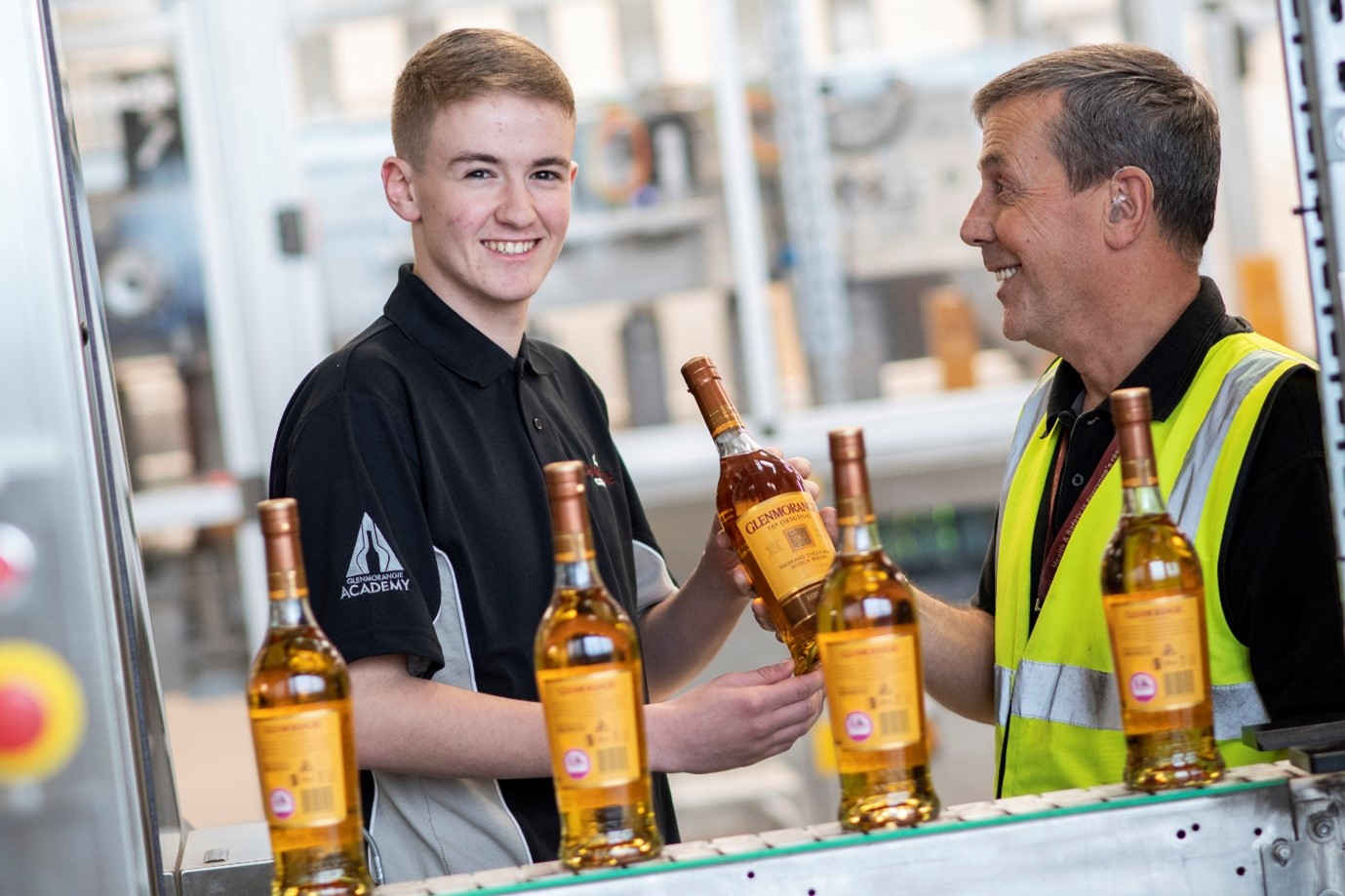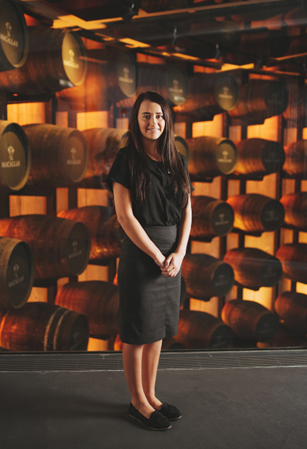 As Finance Assistant for Edrington, Chloe Johnston is studying a Graduate Apprenticeship at Glasgow Caledonian University.  Chloe works for The Macallan Estate Experience Team at The Macallan Distillery and has already established a strong understanding of the company accounting processes.
Chloe told us she was keen to develop a better insight into the accounting world and that the course really interested her because of the opportunity for a dual qualification, on the job experience and being fully supported by your personal tutor, module leader, programme leader and workplace mentor. Chloe said: "I felt this scheme would give me the support to enhance my knowledge and fully understand the supporting accounting processes within various finance functions I have been involved in, alongside other fields I'm less familiar with such as audit and risk management."
Chloe went on to explain how apprentices can benefit from the increase in business skills which are developed during the training which then helps improve ways of working in the business. 
We asked Chloe what value she thinks Graduate Apprenticeships bring to the whisky industry. She told us: "Graduate Apprenticeships are really valuable to our industry as it widens access to various areas which allows a more diverse workforce. I'd highly recommend a graduate apprenticeship programme for anyone wishing to develop their career further."
Chloe intends to look for further opportunities in the finance department and is pleased to let us know that her ambition is to become a Chartered Accountant and to progress her career within The Edrington Group. Good luck Chloe!