Scotch Whisky is the world's number one internationally traded spirit with exports worth almost £5bn annually. 42 bottles of Scotch Whisky are shipped every second to around 180 global markets, totalling 1.31bn bottles (70cl @40% ABV) in 2019.
Key Markets
Here are some examples of markets where the SWA and our member companies work to improve access to the market for Scotch Whisky.
European Union
With exports worth £1.48bn the EU is the largest single market for Scotch Whisky. Four EU member states - France, Germany, Spain and Latvia - are amongst our Top 10 export markets worldwide. Retaining frictionless access to the EU's Internal Market post-Brexit and tackling existing or potential trade barriers in the individual Member States is a priority for the SWA.
India
India is a 300 million-case market for spirits, yet Scotch Whisky accounts for just 1% of the market. This is partly due to the 150% tariff applied by the Government of India, but the country's federal structure also complicates the market for the industry with responsibility for alcohol devolved to individual states in India, creating in effect 28 separate markets each with differing regulations, taxes and restrictions.
Securing improved market access to India is the Association's number one trade priority.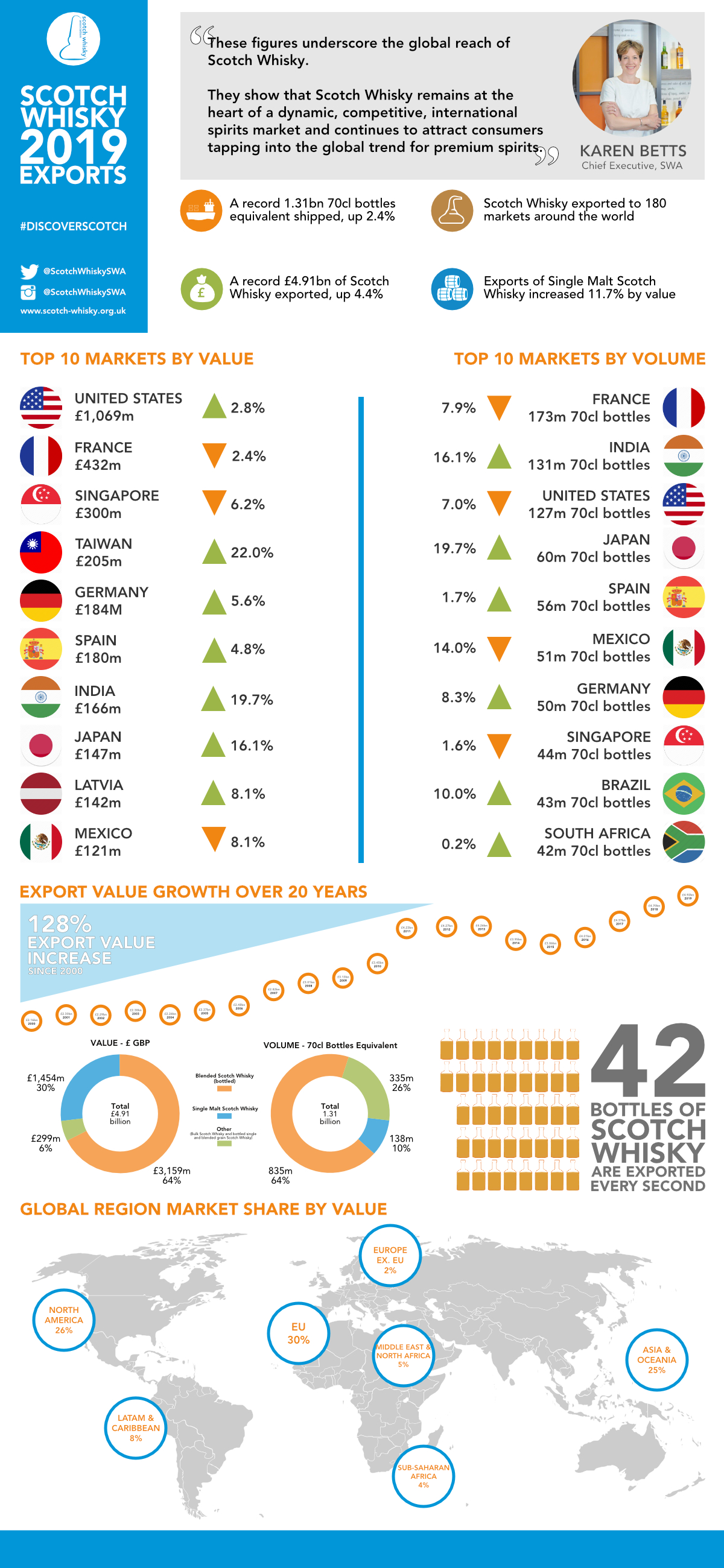 Brazil
Brazil is a top market for Scotch Whisky in Latin America, with 43m 70cl bottles exported to the market in 2019. Compared to other markets globally it is the 9th largest market by volume.
As the Brazilian economy has grown over the last decade, spirits consumption has become more diverse with categories such as cachaça and local brandy, whisky, and rum being supplemented with international products such as Scotch Whisky.
We believe Brazil has significant future potential for Scotch Whisky but there are still challenges. A complicated tax structure, high import tariff and a difficult import regime make trade a costly and bureaucratic process. Working to address these issues is a high priority for the SWA. 
China
China is the largest spirits market in the world and is an important emerging market for the Scotch Whisky industry.  The value of direct exports has grown from under £10 million in the early 2000s to around £89 million in 2019; with increasing prosperity, it has the potential to grow much more. 
The import tariff is low at 5% but access can be complicated. The SWA works with the UK government and spiritsEUROPE colleagues to ensure that Scotch Whisky can be imported smoothly into China. Regulatory proposals can be varied and currently include a Harmonised Export Certificate, a company registration proposal and changes to the existing labelling requirements.
South Africa
South Africa is one of our top 10 export markets and by far the largest market in Africa. Exports in 2019 were worth £108 million. The export of Single Malt Scotch Whiskies has risen in the last few years and they now constitute 4% of total export volume. Retaining tariff-free market access post-Brexit is vital, and the removal of existing non-tariff barriers would improve the trading environment further.